Partners in Crime: Adventures in Latin (and much more) with Holly Davidson
This year marks the 50th anniversary of my friendship with Holly, whom I first met in a third-year Latin class at Chatham Hall, an all-girls boarding school in Virginia, where we followed a family tradition in attending a college preparatory high school for four years. We groaned and giggled our way through Virgil's Aeneid, while pursuing other passions (studio art courses, dramatic club productions), dodging our athletic requirements, and escaped getting caught breaking the rules. Older and wiser, Holly went off to college before I did, but by the time we had both completed several undergraduate years, she had started learning Greek and I had followed suit, having visited her classes at Boston University and met inspiring classicists. To our mutual surprise and delight, we found ourselves, midway through college, majoring in Classics.
This led to a transformative summer in both of our lives, when we enrolled in Harvard Summer School in 1974, to brush up on our Latin in a class we took together, while I improved my Greek in order to transfer to UNC-Chapel Hill as a Classics major, and Holly continued her Arabic studies. Our apartment on Ellery St., equipped with a case of Rebel Yell, a yogurt maker, and a wonderful back porch, sustained us through heat waves and homework for our intensive language classes. Fortune smiled on us from many heavens, thanks a magic coincidence: my Greek teacher, Gregory Nagy, and my roommate, Holly Davidson, met that summer on our back porch. (Our riotous laughter even drew the Cambridge police with reports of a wild party, as "Officer Friendly" informed us on his visit, astonished to find only a Harvard professor of Greek discussing Homer). The rest, of course, is history of the happiest kind, as Greg and Holly married the following summer, beginning a unique partnership in family and intellectual endeavors.
But Holly continued to lead the way, acquiring Persian as well as Arabic, and began a PhD program in Near Eastern Studies at Princeton in 1976 (as I entered Harvard for my own PhD in classical archaeology), only to give birth to her son Laszlo, a few months later. Finishing her doctorate in 1983, by which time her daughter Toni was three years old, Holly embarked on a game-changing career that has brought together the study of the Classics, Persian literature, comparative mythology, and much more, in her scholarship, but also reaches forward into the modern Islamic world for greater awareness of the Middle East in its relations with the West. Few scholars have had such an impact both in scholarship and in contemporary life, both west and east, as the many essays in this collection attest in rich detail. Since I began teaching at UCLA (where Holly and Greg spent a summer, in 1975), home to a thriving program in Iranian Studies on campus, I have enjoyed many an appearance, including in my own classes, by Olga Davidson, as well as the inauguration of the Pourdavoud Center in a lecture by Gregory Nagy. Thus their activity has enriched many lives on the West Coast as well as the East.
One of the pleasures in looking back at our intertwined lives has been re-visiting many happy intersections, on many continents. In 1987, our enthusiasm for a local tennis tournament in Dublin, New Hampshire (Holly's summer home, and that of her grandmother, brother, and other family members), would have astonished our high school gym teachers (Figure 1).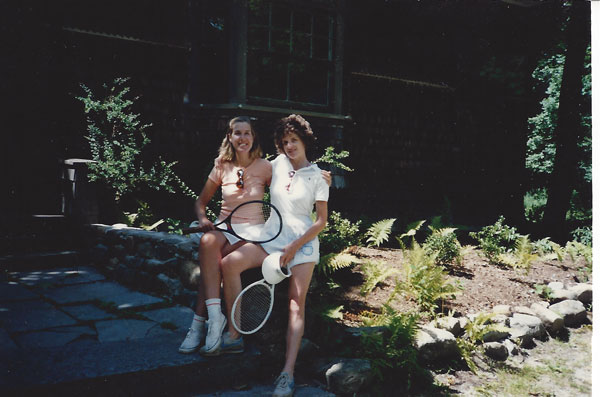 In 1994, we met to celebrate our shared Chatham heritage on the occasion of the school's centennial, and re-visited the start of our academic careers with our Latin teacher, Miss Mary Virginia Gillam (Figure 2).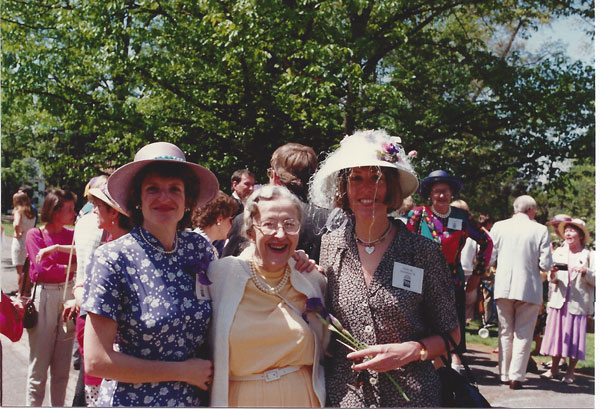 I was tickled that Greg and Holly's son, Laszlo, discovered Greek himself after his first degree (as his father once did), and that Toni Nagy knew my Greek teacher in college at Sarah Lawrence, where I spent the first two years of college, meeting Holly in New York at the "hot pot" (the Euphronios krater, then at the Metropolitan Museum) for weekends. Other escapades— dancing in Boston, weekends on Cape Cod, visiting her father in DC and my home in North Carolina—punctuated many happy decades of studies. And thanks to Greg's wonderful expansion of Hellenic Studies at CHS and his activity with alumni travel at Harvard, I could count on running into Greg and Holly in Athens, Greece, as I did a few years ago in March.
Finally, no review of our lives together would be complete without remembering Holly's hospitality, and that of her entire family, at "Kalimera" in Corning, New York. While my own family was abroad or dispersed during my Chatham years, and even after, her family welcomed me to their home on many a Thanksgiving holiday or school vacation, as Holly did years later in Dublin. I will never forget picnics in the snow, lively music from the Khyber Pass, and the ritual viewing of favorite films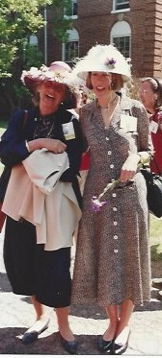 (from "The Wrong Box" to "Singing in the Rain"). In particular, I remember fondly Polly Wheeler Guth, Holly's formidable and unforgettable mother, who created a program in leadership for women at our high school, and set the bar high for us all. She also inspired in Holly a dedication to her family that few know of, as she has sustained, supported, and encouraged siblings and their offspring through all kinds of endeavors, and cared for her parents through the last days of their lives. The same high school centennial brought Holly and Polly together, in a favorite moment I captured on film (Figure 3).
In Holly's own life, her achievements as a teacher, scholar, and major facilitator of East-West exchange in the modern world are crowned by her creation of a unique and original institution. The Ilex Foundation and its activities have changed the way we enjoy and understand not only Iranian civilization, from ancient to modern, but the wider world from the Mediterranean through Europe and Asia.
But beyond her leading role in intellectual and cultural circles, Holly remains for me, always, an inspiration since our school days, when she always had time for a younger friend, shared her family with me, and contributed to my life and my career in more ways than she may know.
THANK YOU, HOLLY!